24th June 2021
%D DAYS %H HOURS %M MINUTES %S SECONDS TO SPACECONFERENCE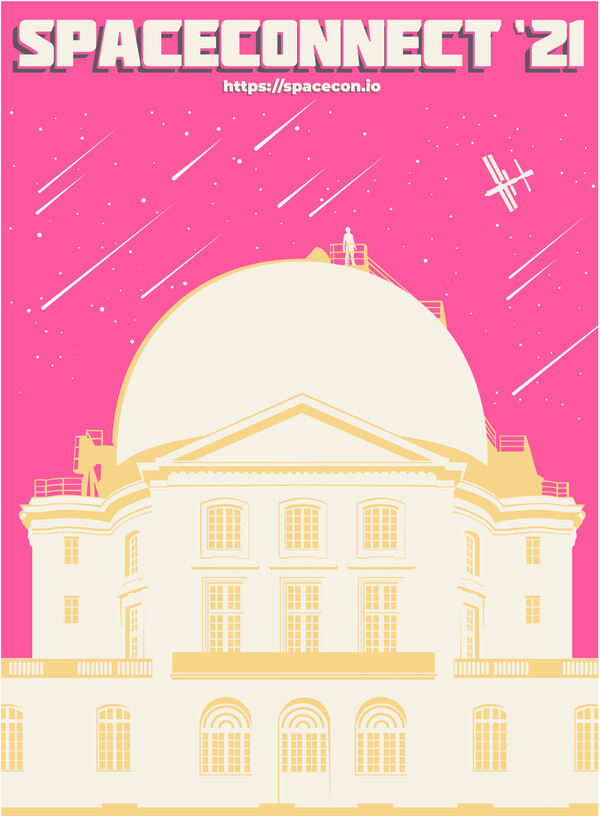 Participate in #SpaceConference throughout the day during which key personalities of the space industry will bring you their poignant and inspiring testimonies. Passionate round table discussions will be held on the following themes
New Space, the new gold rush? Challenges and business opportunities in Europe, the United States and China.
Exploration vs. Exploitation: Perspectives of human activities on the Moon and Mars.
Don't miss a bit and come ask your questions !
Program
A selection of inspiring talks featuring industry leaders, startup founders and top content creators.
Host: Alexandra Jercaianu
Virtual Talks
Veronica Moronese (Italian Institute for the Future)
Space colonies.
The Paraboladies
Space Medecine with the Paraboladies.
In Presence Program
@ Centre d'art et de culture, Meudon (92)
Morning
Opening Ceremony (SpaceCon)

09:00 – 09:10

Bruno Sainjon (ONERA)
09:15 – 09:25

Round Table #1 – Exploration vs. Exploitation Future prospects of sustainable presence on the Moon and Mars.
09:30 – 10:45

Break & Connect

10:45 – 11:30

Philippe Baptiste (CNES)
11:30 – 11:40

Renaud Allioux (Preligens)
How did we crack the analysis of Satellite data.
11:45 – 12:00

Ane Anesland (ThrustMe)
How ThrustMe became the first company worldwide to demonstrate iodine-based propulsion in space.
12:05- 12:20

L(a)unch & Visit

12:25- 13:45

Afternoon
Delphine Roma (Air Liquide)
Air Liquide and Space: our technologies to invent the future.
13:50 – 14:05

Eric Labaye (Ecole polytechnique)

14:10 – 14:20

Paul Lascombes (Exotrail)
From a student project to an established start-up company: the history of Exotrail.
14:25 – 14:40
Matteo Ainardi (Arthur D. Little)
Space 2040 – four strategic scenarios for the space ecosystem.
14:45 – 15:00
Damien Hartmann (FOSM)
The FEDERATION initiative – making "open innovation" open to anyone.
15:05 – 15:20
Break & Connect
15:25 – 16:00

Round Table #2 – New Space, the new gold rush? Challenges and business opportunities in Europe, the United States and China.
16:10 – 17:35

KSP Competition Highlights & Prize Ceremony.

17:40 – 17:55

SpaceConcept Pitch Prize Ceremony
17:55- 18:05

Michel Assouline (3AF)
18:10- 18:20

Closing Ceremony (SpaceCon)

18:30 – 18:50

Evening
Cocktail dinner and Jazz concert with Guillaume Perret.
19:00 – 21:00

Round Table #1 – Exploration vs Exploitation
Future prospects of human activities on the Moon and Mars.
Driven by curiosity and an eagerness to explore, humans' inquisitive nature has always led us to wonder what is over the horizon. This spirit of adventure is what fueled the space race in the 1960s, it's what is now driving the so called 'NewSpace' era, and will eventually press us to move beyond the initial settlements on the Moon and Mars.
With recent successful missions, such as Perseverance and Curiosity, the prospects of going back to the Moon and finally landing on Mars becomes more imminent. Space activities are starting to include an increasing number of governmental, scientific, commercial and private stakeholders; all with plans to harvest resources from the Moon and NEAs, and to establish human settlements on the Moon, Mars and (potentially!) beyond.
These ambitious space endeavours raise questions of how to balance exploration and use of space resources to ensure that human activities are conducted in responsible and sustainable ways. Despite current legislative documents, such as the Outer Space Treaty, there is a growing need to establish a more comprehensive framework to regulate these human activities beyond Earth orbit.
The space industry is often concerned with how to get to space in all its technological aspects, but with this discussion we would like to question why we want to go to space, and what that means for the future of human activities in space. We aim to have a multidisciplinary and interactive panel, with perspectives from different sectors (business, law, scientific research, entertainment, etc.) that will inspire the audience, as they get a glimpse on the trends of future space exploration.
Round Table #2 – New Space, the new gold rush?
Business challenges and opportunities in Europe, the USA and China.
NewSpace is a modern paradigm that transfers the state monopoly over the space sector to private actors. Towards the end of the Shuttle Space Program, NASA received a lot of criticism over its industrial policy, as the goal of reducing the cost of space access was not achieved. NASA took the reinvention of itself as a challenge and undertook strong modifications in order to reduce the cost of the access to space and develop a strong space economy. As of 2006, we could observe a steady transfer of NASA's R&D and production activity to the private sector. That approach created a new paradigm and a new vision called the New Space.
The European ArianeSpace and ESA are the historic world leaders of commercial access to space. Since 2010, their leading position has been strongly challenged with the arrival of American NewSpace Companies (such as SpaceX) and the more recent development of the Chinese space economy (since 2014) under the direction of CNSA. The Chinese Space Industry, yet in its infancy, records the fastest growth of all three world regions.
NewSpace is not just about the market of launchers. Most of the industry is related to satellites, their management and the usage of spaceborne data. Within this business segment, hundreds of companies have been created to propose solutions and deliver new services to non-space-based economic sectors (e.g. navigation, agriculture, real estate, etc.).
This panel wants to focus on the dynamics between space agencies and their partner startups. What are the industrial policies and business plans that can make NASA, ESA or CNSA the leaders in this new space gold rush?